Want a better software to manage your Web site more quickly and efficently? Click here, and start saving time today!
Create both Websites and CD DVD product catalogs with a single professional tool:
(BELOW!) FREE DOWNLOAD LINKS FOR:
Express Zip Plus Edition 5.01
Express Zip File Compression software is an archiving and compression tool that is intuitive and very easy to use. Use Express Zip to create and open zip files and folders. This software supports popular formats such as zip, rar, cab, tar, 7z, iso, and much more. Express Zip is used to open the most widely used formats for cross-platform data exchange. Express Zip features drag and drop for improved functionality.
(description, more information,
click here - Express Zip software compresses files and folders easily.
)
File size: 1132 Kb
Free Download link 1:
Click here to start the download for Express Zip Plus Edition (then choose Save)
Free Download link 2:
http://www.nchsoftware.com/zip/zipplus.exe
WARNING: While we do our best to screen each file reviewed on CuteApps, we always suggest to scan the files with an
antivirus
before installing them (better safe than sorry).
Also, the download link was working at the time of the inclusion in this archive and when we did the last test; it is provided by the software house and sometimes can be -temporarily- offline or so.
Please
contact us with the contact form
to report difficulties, strange behaviors or persistent problems, and quote the program name or the number 21774 .
Express Zip is a compression and archiving tool. This software allows users to manage, create, and extract zipped folders and files. Express Zip is intuitive and very easy to use. Simply download and install to start managing zip files and folders.
(
Express Zip software compresses files and folders easily.
)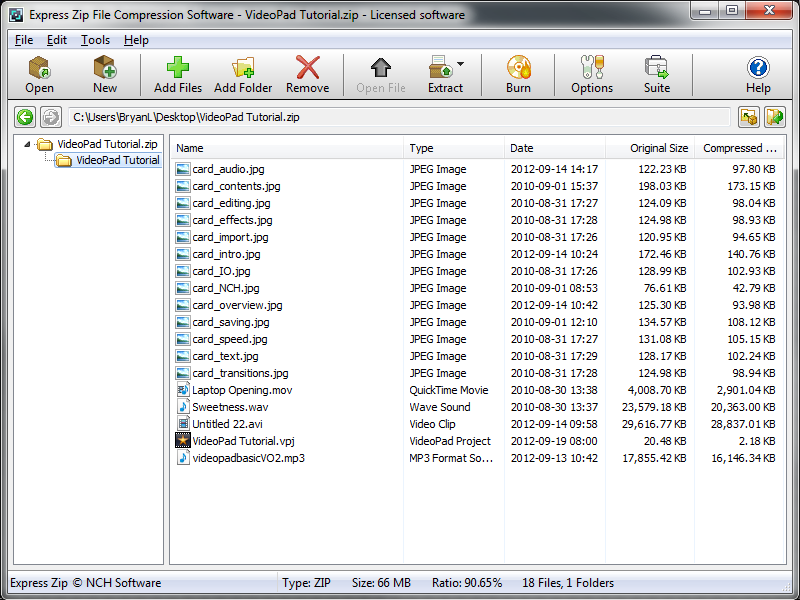 This is the download page for Express Zip Plus Edition - Express Zip Software for file compression. Express Zip is an easy to use archiving and compression tool to create, edit, manage and extract zipped files and folders. You can compress files to reduce size for email transmission or conserve disk space. Also convert other files archives to zip files to easily open and extract from rar, tar, 7z, iso and more.

Fast and efficient file zipping and unzipping lets you create zip files of your important documents, images, music and more to save disk space, email, or burn to CD.

Express Zip Software Features
* Quickly create new zip files
* Open and extract popular archive formats
* Edit and move contents by managing zip files
* Open encrypted archives or encrypt zip files
* Email zip files easily
* Easily convert archives to zip from other formats
* Burn archived files to CD/DVD for long term backup
* Right-click menu for easy Compress or Extract from file browser
* Use multi-split zip archives to split large files into smaller zip files
* Simple but powerful user interface with easy-to-use drag and drop functionality
* Versatile command line features for automation