Software PartitionGuru download
Want a better software to manage your Web site more quickly and efficently? Click here, and start saving time today!
Create both Websites and CD DVD product catalogs with a single professional tool:
(BELOW!) FREE DOWNLOAD LINKS FOR:
PartitionGuru 4.9.5.508
With PartitionGuru, you can recover deleted and formatted files and recover missing or corrupted partitions. It supports RAID recovery and sector edit. Besides, PartitionGuru is a powerful partition manager program which can create, format, resize, extend, shrink and backup partition. Numerous disk utilities are provided by PartitionGuru, such as Quick Partition, Disk Clone, Permanent Deletion, etc. It's Windows 10 compatible.
(description, more information,
click here - All-in-one solution for data recovery, partition manager and data backup.
)
File size: 46991 Kb
Free Download link 1:
Click here to start the download for PartitionGuru (then choose Save)
WARNING: While we do our best to screen each file reviewed on CuteApps, we always suggest to scan the files with an
antivirus
before installing them (better safe than sorry).
Also, the download link was working at the time of the inclusion in this archive and when we did the last test; it is provided by the software house and sometimes can be -temporarily- offline or so.
Please
contact us with the contact form
to report difficulties, strange behaviors or persistent problems, and quote the program name or the number 22164 .
PartitionGuru is powerful data recovery software and supports file recovery and partition recovery. PartitionGuru is also handy partition manager that can create, format, resize, split, hide, backup and clone partition, copy disk, backup system, etc.
(
All-in-one solution for data recovery, partition manager and data backup.
)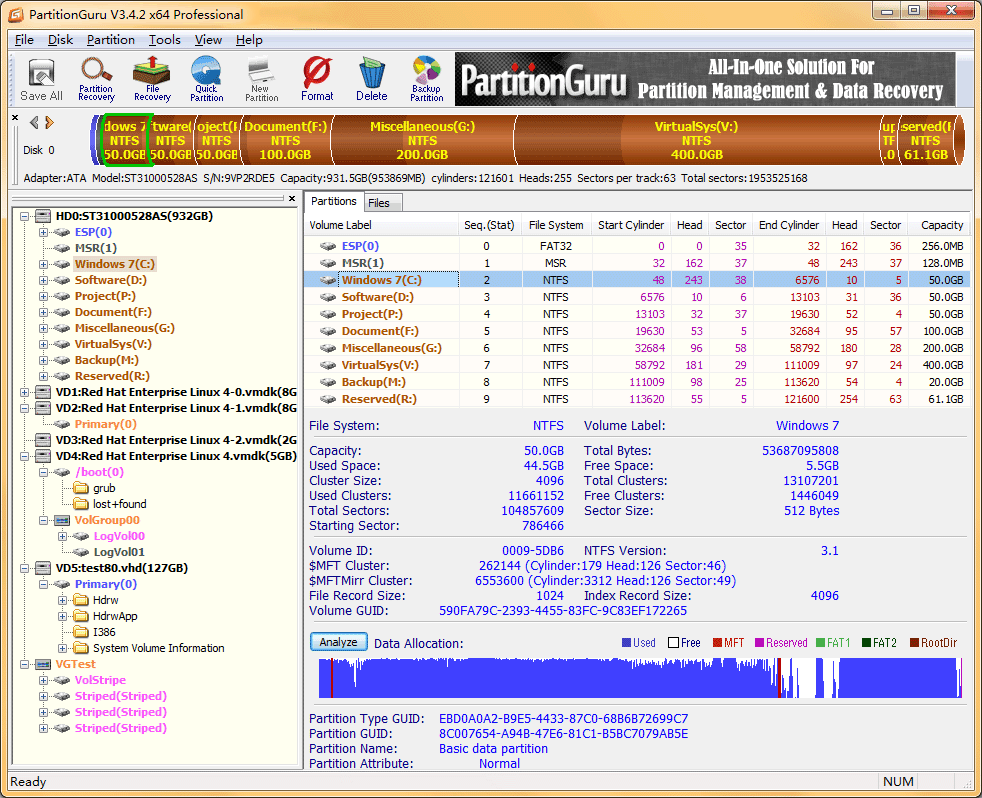 This is the download page for PartitionGuru - PartitionGuru is a powerful tool for data recovery, partition manager and partition backup, for it provides lots of functions.Partition Management - It can create format, resize, extend, backup, split, hide and clone partition, both MBR and GPT are supported;Disk and partition conversion - Convert dynamic disk to basic, convert virtual disk format and convert MBR to GPT, convert primary partition to logical, etc.File recovery - It can recover files deleted or emptied form recycle bin, recover files from damaged partition or disk and recover files by file type and supports file preview and file filter;Partition recovery - It is the best partition recovery program in that it can recover files from damaged, corrupted and RAW partitions, search for lost partition and recover files from it, besides, it can fix partition table;RAID recovery - It can reconstruct Virtual RAID and recover files from it, and all RAID types are supported;Sector Edit - It can edit the sector data just as WinHex;Backup and Restore - It can backup and restore partition including system partition, hard disk and partition table.Bad Tracks - It can check and repair bad sectors for all storage devices; check hard disk S.M.A.R.T. information.Delete files permanently - It can delete files permanently so that they can't be recovered by any data recovery software;Virtual Disk - It supports virtual disks, including VMware, Virtual PC and Virtual Box;Dos - It includes a dos version PartitionGuru with same interface function and operation;PartitionGuru is compatible with all versions of Windows system, both 32 bit and 64 bit; Support FAT12/FAT16/FAt32/exFAT/NTFS/EXT2/EXT3/EXT4