Software Print Conductor download
Want a better software to manage your Web site more quickly and efficently? Click here, and start saving time today!
Create both Websites and CD DVD product catalogs with a single professional tool:
(BELOW!) FREE DOWNLOAD LINKS FOR:
Print Conductor 8.1.2304
Print Conductor is a professional batch printing software. Automate printing of PDF files, plain texts, Microsoft Office and OpenOffice documents and presentations, RTF, HTML, MHT, XML files, AutoCAD, Solidworks and Inventor drawings, Visio charts, Photoshop PSD, JPG, TIFF, PNG, PCX, DCX, BMP and JBIG images, WMF and EMF metafiles. If you regularly have to open and print multiple documents, drawings or images, this tool can be a real time-saver!
(description, more information,
click here - Print multiple PDF, texts, documents, HTML, XML, JPG, CAD drawings, spreadsheets
)
File size: 144907 Kb
Free Download link 1:
Click here to start the download for Print Conductor (then choose Save)
Free Download link 2:
https://www.print-conductor.com/files/printconductor-trial-setup.zip
WARNING: While we do our best to screen each file reviewed on CuteApps, we always suggest to scan the files with an
antivirus
before installing them (better safe than sorry).
Also, the download link was working at the time of the inclusion in this archive and when we did the last test; it is provided by the software house and sometimes can be -temporarily- offline or so.
Please
contact us with the contact form
to report difficulties, strange behaviors or persistent problems, and quote the program name or the number 22480 .
Print Conductor is a batch printing software. It prints multiple PDF files, plain texts, Microsoft Office and OpenOffice documents, RTF, HTML, MHT, XML files, AutoCAD, Solidworks, Visio and Inventor drawings, PSD, JPG, TIFF and PNG images in 3 clicks
(
Print multiple PDF, texts, documents, HTML, XML, JPG, CAD drawings, spreadsheets
)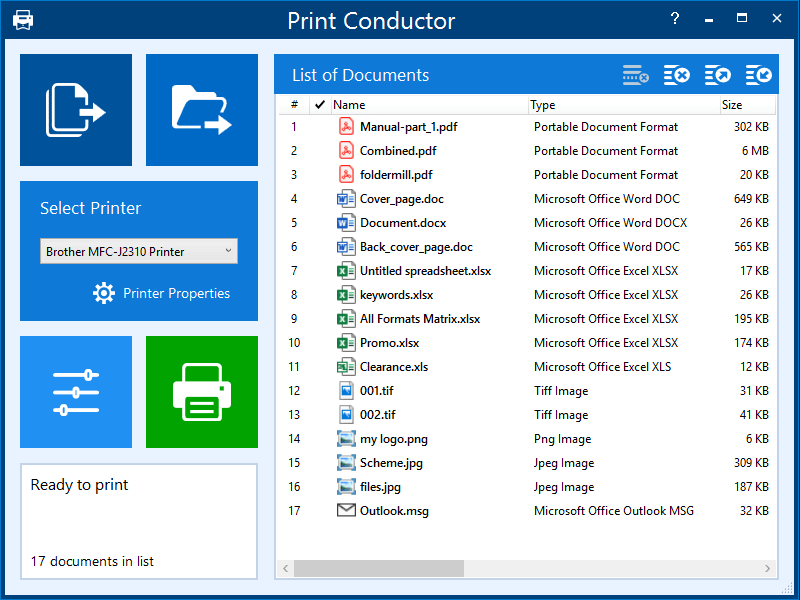 This is the download page for Print Conductor - Print Conductor is a batch printing software. If you regularly have to open and print multiple files, this smart tool can be a real time-saver. Manually printing several files is tedious work - it generally requires opening and printing each file separately in the applications used to create them. Once you add files to print, Print Conductor automates the rest of the process. Print Conductor is easy to use. Just add files to be printed to the list and click the 'Start Printing' button. All popular file formats are supported: PDF files, plain texts, Microsoft Office and OpenOffice documents and presentations, RTF, HTML, MHT, XML files, AutoCAD, Solidworks and Inventor drawings, Visio charts, Photoshop PSD, JPG, TIFF, PNG, PCX, DCX, BMP and JBIG images, WMF and EMF metafiles. Print Conductor can batch print large quantities of documents on any type of printer: desktop printers, network printers or virtual printers. If you select Universal Document Converter as a virtual printer to use with Print Conductor, you can batch convert a list of documents, presentations, worksheets or drawings to a variety of other formats: PDF, TIFF, JPEG, PNG, GIF, PCX, DCX, or BMP. What's new in version 8.1: - New supported file formats: VCF, EMLX, STP (STEP), EPUB, PRN; - Printing XLS, XLSX and CSV file without MS Excel; - Barcodes and QR-codes as a watermark, adding multiple watermarks simultaneously; - Changing opacity for Image watermark; - New Preview pane in the List of Documents; - Selecting color mode for different pages or page ranges; - Skipping blank pages of documents; - Setting Scale mode for any file in the List of Documents; - Running Print Conductor with pre-defined Settings and pre-saved List of Documents; - Adding a multi-line text watermark; - New Text watermark macros; - Adjustable time delay before each document is printed; - Setting initial folder for Add Documents and Add