Software Secure IT Encryption Software download
Want a better software to manage your Web site more quickly and efficently? Click here, and start saving time today!
Create both Websites and CD DVD product catalogs with a single professional tool:
(BELOW!) FREE DOWNLOAD LINKS FOR:
Secure IT Encryption Software 16.0.2.0
Secure IT File Encryption Software password protects all your files and folders. Built-in compression to save storage space. Integrated shredder allows permanent file deletion. Secure e-mail module and full command line support. Encrypt and lock folder, any data on any disk drive including removable drives such as USB, flash drive, memory stick, CD/DVD. Works on all 32-bit and 64-bit versions of Windows including Windows 10 & Windows 8.x.
(description, more information,
click here - Encrypt and compress any data with Secure IT File Encryption Software
)
File size: 22178 Kb
Free Download link 1:
Click here to start the download for Secure IT Encryption Software (then choose Save)
Free Download link 2:
https://www.cypherix.co.uk/download/secureit16.0.exe
WARNING: While we do our best to screen each file reviewed on CuteApps, we always suggest to scan the files with an
antivirus
before installing them (better safe than sorry).
Also, the download link was working at the time of the inclusion in this archive and when we did the last test; it is provided by the software house and sometimes can be -temporarily- offline or so.
Please
contact us with the contact form
to report difficulties, strange behaviors or persistent problems, and quote the program name or the number 22962 .
Encrypt and compress any type of data on any Windows PC with Secure IT File Encryption Software. Shred any file or folder. Send Secure e-mail. Full command line Support. Zero learning curve.
(
Encrypt and compress any data with Secure IT File Encryption Software
)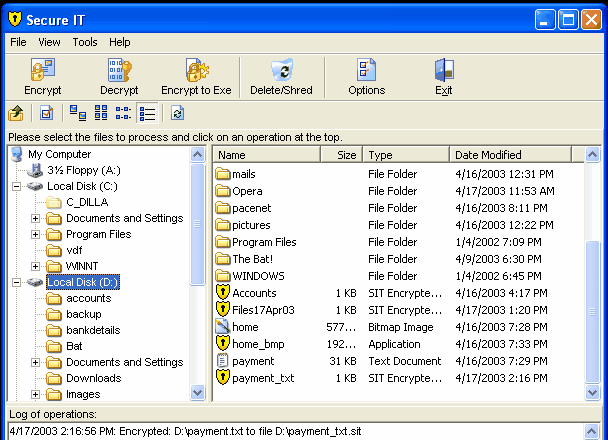 This is the download page for Secure IT Encryption Software - Cypherix's SecureIT File and Folder Encryption Software is an easy to use, feature packed program that protects all your files and folders using 448-bit strong Blowfish encryption. It includes a powerful, customizable file shredder. SecureIT File Encryption Software has the ability to generate self-decrypting email attachments that allows the user to send encrypted/secure email to anyone - the recipient need not have a copy of the program. This strong encryption software ensures that it is statistically impossible for an unauthorized person to access the encrypted data. It includes virtual keyboard and privilege mode option that can help to prevent a keylogger from capturing keystrokes. SecureIT is so simple to use. SIT 2000 is designed to meet the growing security and privacy needs of all computer users. The software combines ease of use with state of the art technology to ensure total security with a zero learning curve and maximum convenience. The program is fast, and requires relatively few computing resources and little time to encrypt files. The software provides full access control. SecureIT includes Password strength and monitor meter which is useful in setting up effective and strong passwords. No unauthorized access to encrypted data is possible under any circumstances, i.e. there are no 'back doors'. It ensures encryption of every type of file such as spreadsheet, graphic, or word processor. The software works on any kind of medium, whether removable drive (USB Flash Drive), CD/DVDs. Secure IT 2000 is transparent to the end user, designed to hide the complexities of encryption technology from the end user. It runs on all 32-bit as well as 64-bit versions of Microsoft Windows (Windows 10, Windows 8, Windows 7, Windows Vista, Windows XP Family).