Software FlyTreeView for ASP.NET download
Want a better software to manage your Web site more quickly and efficently? Click here, and start saving time today!
Create both Websites and CD DVD product catalogs with a single professional tool:
(BELOW!) FREE DOWNLOAD LINKS FOR:
FlyTreeView for ASP.NET 4.5.0
FlyTreeView for ASP.NET is a full featured treeview control. It does not require extra Javascript frameworks. FlyTreeView for ASP.NET features native .NET data binding model and complete Visual Studio 2005-2010 support, checkboxes and radio buttons, dynamic nodes loading, context menu, drag-and-drop, unlimited behavior and style customization along with collection of predefined treeview styles, convenient client-side API.
(description, more information,
click here - Full featured treeview control for ASP.NET
)
File size: 1052 Kb
Free Download link 1:
Click here to start the download for FlyTreeView for ASP.NET (then choose Save)
WARNING: While we do our best to screen each file reviewed on CuteApps, we always suggest to scan the files with an
antivirus
before installing them (better safe than sorry).
Also, the download link was working at the time of the inclusion in this archive and when we did the last test; it is provided by the software house and sometimes can be -temporarily- offline or so.
Please
contact us with the contact form
to report difficulties, strange behaviors or persistent problems, and quote the program name or the number 7788 .
FlyTreeView for ASP.NET is a fully functional treeview control. It is fully compatible with ASP.NET 2.0-4.0 and does not require additional JavaScript frameworks.
(
Full featured treeview control for ASP.NET
)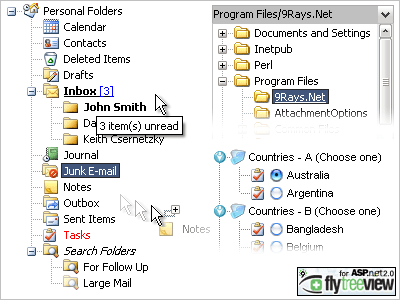 This is the download page for FlyTreeView for ASP.NET - FlyTreeView for ASP.NET is a full featured cross-browser treeview control. FlyTreeView for ASP.NET features full support for ASP.NET partial rendering, cross-browser support (IE, Firefox, Opera, Safari, Chrome), on-the-fly nodes population, unlimited appearance and behavior customization along with set of predefined treeview styles, fast and flexible client-side scripting model, context menu, radio buttons, checkboxes, drag-and-drop capabilities (between any custom objects and treeviews), native .NET data binding and complete IDE designers support. This treeview control provides application developer with the most advanced solution for presentation of hierarchical data on the web (database strucute, help system TOC, web site navigation, treeview file system presentation and management and so on). Any of built-in treeview styles can be modified and replaced with your own custom one. The treeview outputs its markup in a valid XHTML. Moreover it utilizes HTML5 and CSS3 when supported by browser.