Software BALKAN OrgChartJS download
Want a better software to manage your Web site more quickly and efficently? Click here, and start saving time today!
Create both Websites and CD DVD product catalogs with a single professional tool:
(BELOW!) FREE DOWNLOAD LINKS FOR:
BALKAN OrgChartJS 8.13.08
RESUME/REVIEW BY CUTEAPPS: OrgChart JS lets developers to create complex tree structures and then displays them as a beautiful org-chart. The charts are fully customizable, and when used with a server-side component also allow developers to create and edit the charts using a specially crafted interface. OrgChart JS has the following features: Search, Expand Collapse, Edit Form, Node Customization, Zoom, Scroll Bars, Lazy Loading, Drag and drop, Mixed Hierarchy an Exporting
(description, more information,
click here - A JavaScript library for building interactive OrgChart for you HR software
)
File size: 96 Kb
Free Download link 1:
Click here to start the download for BALKAN OrgChartJS (then choose Save)
WARNING: While we do our best to screen each file reviewed on CuteApps, we always suggest to scan the files with an
antivirus
before installing them (better safe than sorry).
Also, the download link was working at the time of the inclusion in this archive and when we did the last test; it is provided by the software house and sometimes can be -temporarily- offline or so.
Please
contact us with the contact form
to report difficulties, strange behaviors or persistent problems, and quote the program name or the number 23089 .
A JavaScript library for building interactive Org-Charts, specifically tailored for displaying a company's organizational structure
(
A JavaScript library for building interactive OrgChart for you HR software
)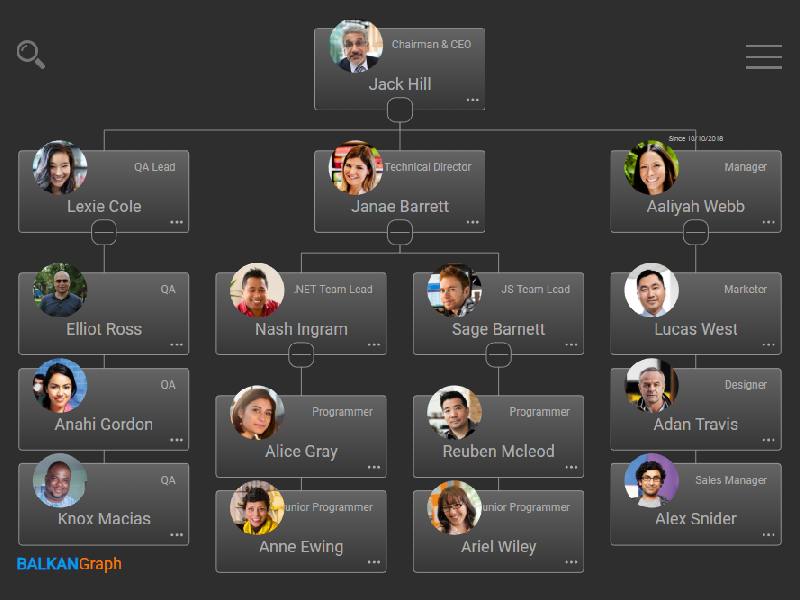 This is the download page for BALKAN OrgChartJS - Org Chart JS is designed for making organizational charts using HTML5, CSS, and JavaScript. To create unique appearance for your app, you can make use of a set of default skins and color palettes or make your own set. If your users work with big diagrams, a search field which allows finding a particular item will serve as a handful tool. The edit mode makes it easy to create and edit diagram items. All you have to do is type a name, title, some additional info, and Org Chart JS will create or edit the item and rebuild your diagram automatically. If you work with a big data set, you can collapse your diagram leaving only the part you are working with. Org Chart JS has a zooming and scrolling features One of the best things about Org Chart JS is that it has a simple configuration syntax. You can Undo or Redo every operation. Org Chart JS features the ability to build organization charts of any complexity. An organizational chart represents the most natural way of displaying the hierarchical structure of an organization. You can use it to show the structure of a company, business, or project team. Org Chart JS allows you to export your chart/diagram to PDF, PNG, SVG, CSV, XML or JSON. Org Chart JS component consists of nodes and connectors. You can use nodes of some particular type: just textual, with an image or any other custom HTML and SVG elements, or create your own. Creation of a unique style for your diagram will be easy. The look and behavior are fully customizable, so you can set up any appearance you need via CSS or object properties. You can easily integrate this Org Chart JS library in any web app. It supports the data loading in the JSON format, and can be used with any server-side back-end. Org Chart JS supports unlimited number of sub trees in one chart object and two states of a node. It supports dotted lines that allows you to show that an employee also report indirectly to a secondary manager or supervisor.