Software WebSite Auditor Enterprise download
Want a better software to manage your Web site more quickly and efficently? Click here, and start saving time today!
Create both Websites and CD DVD product catalogs with a single professional tool:
(BELOW!) FREE DOWNLOAD LINKS FOR:
WebSite Auditor Enterprise 4.56.9
WebSite Auditor is a marvelous piece of SEO software for effective on-page optimization. First, it runs a thorough analysis of your site's architecture and exposes its structural flaws that hold back your rankings. Then, it analyzes the pages of your top competitors and comes up with easy-to-follow guidelines on how to best use your keywords in your site's content (page titles, body text, etc.) to quickly overtake your competition in SERPs.
(description, more information,
click here - An advanced SEO tool for website's structure and content analysis.
)
File size: 558237 Kb
Free Download link 1:
Click here to start the download for WebSite Auditor Enterprise (then choose Save)
Free Download link 2:
https://www.link-assistant.com/download/macosx/websiteauditor.dmg
WARNING: While we do our best to screen each file reviewed on CuteApps, we always suggest to scan the files with an
antivirus
before installing them (better safe than sorry).
Also, the download link was working at the time of the inclusion in this archive and when we did the last test; it is provided by the software house and sometimes can be -temporarily- offline or so.
Please
contact us with the contact form
to report difficulties, strange behaviors or persistent problems, and quote the program name or the number 22412 .
WebSite Auditor is a multi-purpose SEO tool for complete and effective on-page SEO. It (1) helps you do away with your site's structural flaws that affect your rankings and (2) prompts you how to optimize your site's content for your target keywords.
(
An advanced SEO tool for website's structure and content analysis.
)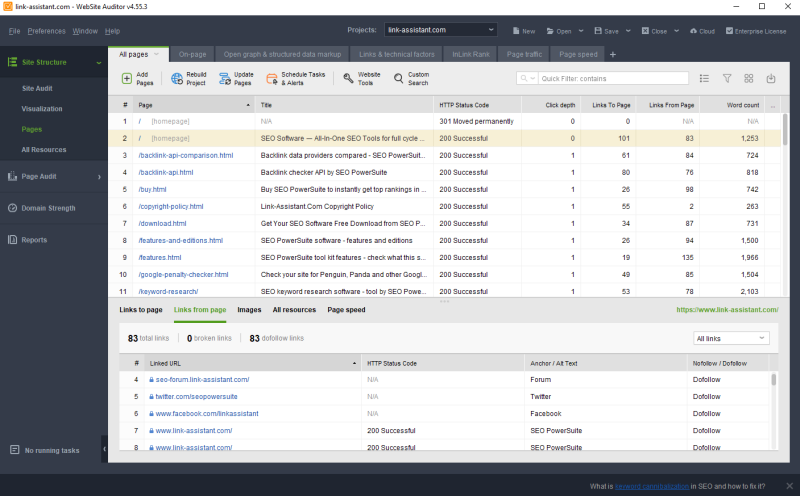 This is the download page for WebSite Auditor Enterprise - WebSite Auditor Enterprise is expert-level SEO software that will diagnose a site for the widest range of on-page issues possible. Would like to analyze your site's crawlability and accessibility on the fly? Just hit start the SEO program and see all your: - broken links; - missing or duplicate titles and meta descriptions; - 301, 302 and other redirects; - multiple canonical URLs; - pages with W3C HTML and CSS errors and warnings; - broken images; - Core Web Vitals data; - and more. Need to optimize your content for keywords and make sure you are not going over the top with them in your copy? WebSite Auditor will analyze the pages of your top-ranking competitors and come up with the recipe of: - The number of keywords you need in titles, headings, anchor texts, etc. to get higher ranking; - The best way to use structured data on your pages; - The ideal title and text length, etc. Create new content for future pages or optimize existing ones. Generate PDF guidelines with SEO instructions for your copywriters in one click! Import your target keywords and map them to the most relevant pages of your site (Keyword Map module). Besides, WebSite Auditor will help you create or edit your robots.txt file and an XML sitemap and let you upload them via FTP. Need reports to show off your SEO work to clients? WebSite Auditor produces a variety of page-level and site-level reports, full of pretty graphs and diagrams that visually speak of your progress. All WebSite Auditor reports are fully-adjustable, and you can choose which tables to include, which color scheme to use and how to sort data within the report. Last but not least, you can automatically send reports to one's email, upload them to your site, print them out, or let them sit on your computer for later use. The tool speaks multiple languages and runs smoothly on Windows, Mac OS X, or Linux. Check out how easy on-page o